Your Ecogreen Tank Monitor
Once you complete installation, your Ecogreen Tank Monitor will transmit data every 2 hours via the latest IoT cellular technology. The data is stored securely for you to access by logging in to your MyEcogreenMonitor web portal.
The hardware is made of 2 connected parts:
The Base:
For most outdoor applications, the base is a green wedge-shaped housing with a fitting that screws in to a 2-inch port on top of the tank. The Ecogreen Tank Monitor is battery powered but also has a built-in solar panel which extends the life of the battery. For indoor models, the base plugs in to a standard outlet. The base also contains the GPS receiver and IoT cellular communication device.
The Sensor:
Connected to the base is the sensor. There are different sensors available for different situations. This flexibility allows Ecogreen to be your solution for nearly any commercial tank.  We offer full assistance in choosing the best sensor for the application.
Float Probe Sensor: this is a straight (no mechanical arm) probe with a fixed length of 38, 48 or 64 inches. A good choice for job-site fuel tanks because it holds up to tank movement and vibration. Best for above ground storage tanks (AST) up to 64" in height that have an accessible 2-inch port.

Pressure Sensor: this sensor rests at the bottom of the tank and is connected by cable to the base. The cable length doesn't need to match the tank height which makes it a good choice for multiple tank sizes, or if the base can't be mounted directly on the tank. Available in cable lengths of 72 inches, 144 inches and other sizes up to 35 feet.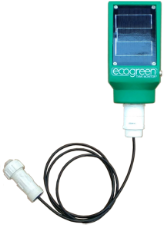 Ceramic Pressure Sensor: similar to the Pressure Sensor above but is designed for use with chemicals that react poorly with the stainless steel.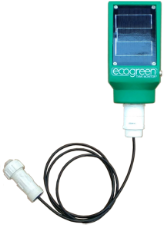 Propane Hall Effect Sensor: connects to the Remote Ready Dial (R3D) that comes with most commercial propane tanks. If no R3D is present, one can be retrofitted to most tanks including large bulk propane storage tanks as wel as Ammonia (NH3)  tanks and others fitted with an R3D Remote Ready Dial.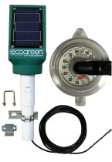 VR Reader: connects to the existing  Automatic Tank Gauge built in to many underground and permanent tanks. Examples are Veeder-Root, Franklin Fueling, Incon. Reads up to 4 tanks per ATG.

Custom Engineering: many customers require custom engineered Ecogreen solutions. We have options for a range of situations such as indoor tanks, a range of liquid chemical properties, configurations for unique tanks, add-on sensors for things like temperature, and options for updates more frequently than every 2 hours. Contact us to find out more.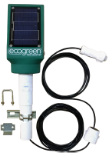 Industries We Serve
The Ecogreen Tank Monitor applies to a diverse range of industries. Whether you're a delivery company or an end-user in need of monitoring your diesel, wastewater, fresh water, oil, fuel or chemical tanks, Ecogreen will breathe new life into your operations.